10 Best Mind Mapping Software for IT Non-IT Businesses
This article analyses and recommends different types of mind mapping software.
Join the DZone community and get the full member experience.
Join For Free
Although there is a spike in Google Trends for Best Mind Mapping Software, I haven't seen the programs' actual application on the internet — that is just my observation. It does not imply that mind mapping software is not in demand. It's just that some companies and individuals are still oblivious to their use. Instead, people rely on directly jumping on to plan to initiate, executing and deployment without giving the "brainstorming" element any thought.
Mind mapping makes brainstorming easier. It is like having your own "world', a workspace where there are no constraints. All you have to do is visualize stuff, scribble down ideas, create flowcharts and do whatever it is necessary to set the cart in gear. Besides, mind maps are cool. You can understand the project's underlying strategy long before it has even started.
Video Source: TedX – Naperville
I Don't Know What a Mind Mapping Software Is…
Mind mapping software is the revamped version of your old school whiteboard diagrams. Remember those days when you or a group of workers wanted to start a project? They would huddle around the whiteboard, create images and vice versa. Everyone would pitch in with their idea – except that it would be in the form of "mind maps", block diagrams and other elements.
In that realm, developers took the same concept and applied them to a bunch of workable programs. These programs are known as mind mapping software. As of right now, the internet is brimming with tons of mind mapping software. In fact, "brimming" is a literal word descriptor because every few months, some nomad company releases something new.
These new companies do a standoff of so-called best mind mapping software at their official blog. Their only intent is to promote their product or do an SEO roundup for getting organic traffic from the search engine.
That is okay; in understanding the need to promote rankings. But when such mind mapping tools are abundant without any elaboration on how they work, how are they useful and what exactly does a mind mapping software do, it turns into a steaming pile of bull pizzle.
"A mind mapping software helps project managers to capture, catch and connect newly formed ideas."
The mind mapping phenomenon is so important that I think it should come before you write down a work statement at the start of a project. Some people call it a statement of intent, but it serves the same purpose when we look at it from the perspective of project management.
This theory also begs for another question to be answered. And that would be the actual application of mind mapping tools in project management. Such programs are not a necessity, but they are a "means to an end." Not using a mind map won't have any drastic effects on how your project finishes up in the long run. Or perhaps, it may have. Maybe you made a mistake during the planning phase and missed a few important elements that only a mind mapper could have lent.
On that note, this is a double-edged sword.
Coming back to why or why not a mind mapping software is essential to project management, it is all about perspective. Besides, technology is changing. Many companies and businesses shut down because they don't innovate.
Others survive because they use modern technology; abide by whatever latest trends going on outside the organization and follow the rule of improvisation. Mind mapping is the same thing. I would say that it is a relatively "new" concept, and has a lot of potential on how your project could finish eventually.
From simple brainstorming to complex blocks visualization, a good mind mapping software has it all laid down. It eventually depends on your standard of what exactly defines the "best mind mapping software in 2019 and beyond."
Since I am an Agile project manager at nTask, I can say from a cursory analysis that the following features should be in a mind mapping software. On the issue of what makes it the "best" tool is a matter of choice, budget and actual client requirements vs. several features in the mind map software.
Some of the common/ essential features of a mind mapping software are appended below.
Canvas Features
Canvases are your work boards where you shape your rough ideas. Some mind mapping software companies offer unlimited canvases. There could be size limitations but the unlimited canvas is a great way of kicking off some mind maps simultaneously.
File Uploads
Almost every mind mapping software comes with the ability to upload files. It is a basic level integration that you should look for when buying such a program for regular use. Some programs that lean extensively on the visual cue side, they allow for uploading and attaching image files. Others allow users to add text overlays through plain text files. It depends on what you are looking for.
Communication
If you are using a mind mapping program as a project manager, you will need the collaboration feature. Since many team members brainstorm at the same time when using these tools, communication is more of a necessity.
The ability to give feedback, comment, and add suggestions to a mind map is a welcome perk. Likewise, if the mind mapping software is cloud-synced, users should be able to revisit archived/old maps from anywhere in the world.
File Extensions, Save Options
Ultimately, a high-quality mind map needs to be exported. That's where save file formats and extensions come into play. If software uses an exclusive file format for the sake of self-promotion, there is no point in using it.
Work teams normally use a mind map program that has compatible file extensions with other third-party apps. What's the point of downloading software with exclusive file export format and extensions?
Diagramming Tools
While there are a majority of users who get by with minimum image drawing features, others rely on extensive diagramming. For instance, engineering projects call for special flow chart and architectural diagrams that are essential to the mind mapping stage.
In that sense, make sure that your "best mind mapping software" of choice has an array of diagramming tools. Also, if you can create wireframes and technical diagrams with just as much ease as drawing a simple shape, you've got yourself a win-win situation.
Additional perks of an ideal mind mapping tool would be the ability to import and create diagrams based on live data from business competitors. In other words, think about business intelligence incorporated into your favorite program for blowing the competition out of the water.
General Mind Mapping Tips for Starters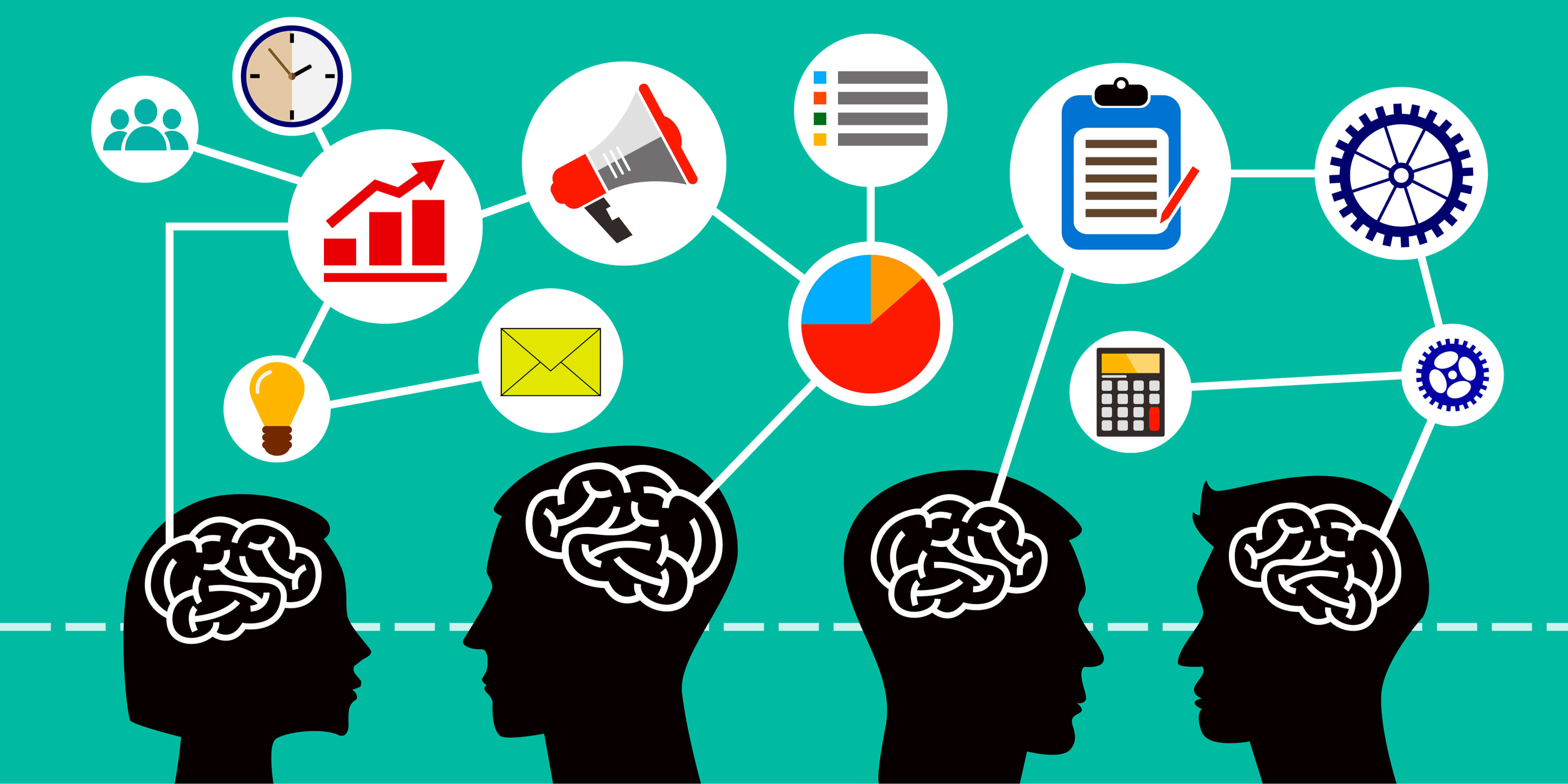 Making a mind map is easy. I know the term is intimidating but it is all about scrapping down raw ideas into diagrammatic representations. Remember, it is your canvas and you get to draw whatever comes to your mind.
Most of the mind mapping software comes with preset templates. If you want to start from a blank canvas and work your way through to the final image, that's up to you. Here are some general tips on how to make a mind map:
Start your very first mind map with a blank canvas.
Create one node at the center of the canvas. This will be your central node with different sublevel ideas attached to it.
Brainstorm and try to come up with variables that affect/ boost your idea.
Just like a flowchart, connect the lines back to the central node. You can also reorganize your nodes if the free version of the best mind mapping software allows it.
In the end, format the look and style of your mind map to make it more comprehensible.
This activity can also be performed as a team. Everyone will need cloud access to the same mind map alongside collaboration tools to communicate.
Best Mind Mapping Software Recommended by Our Experts
Before I begin, what makes for a great mind mapping software is all about your requirements. Therefore, do a little bit of research on the pros and cons of any given program before you run your credit card. A general rule of thumb is to use a program with simple UI, easy workflow and feasibility to optimize your project management skills.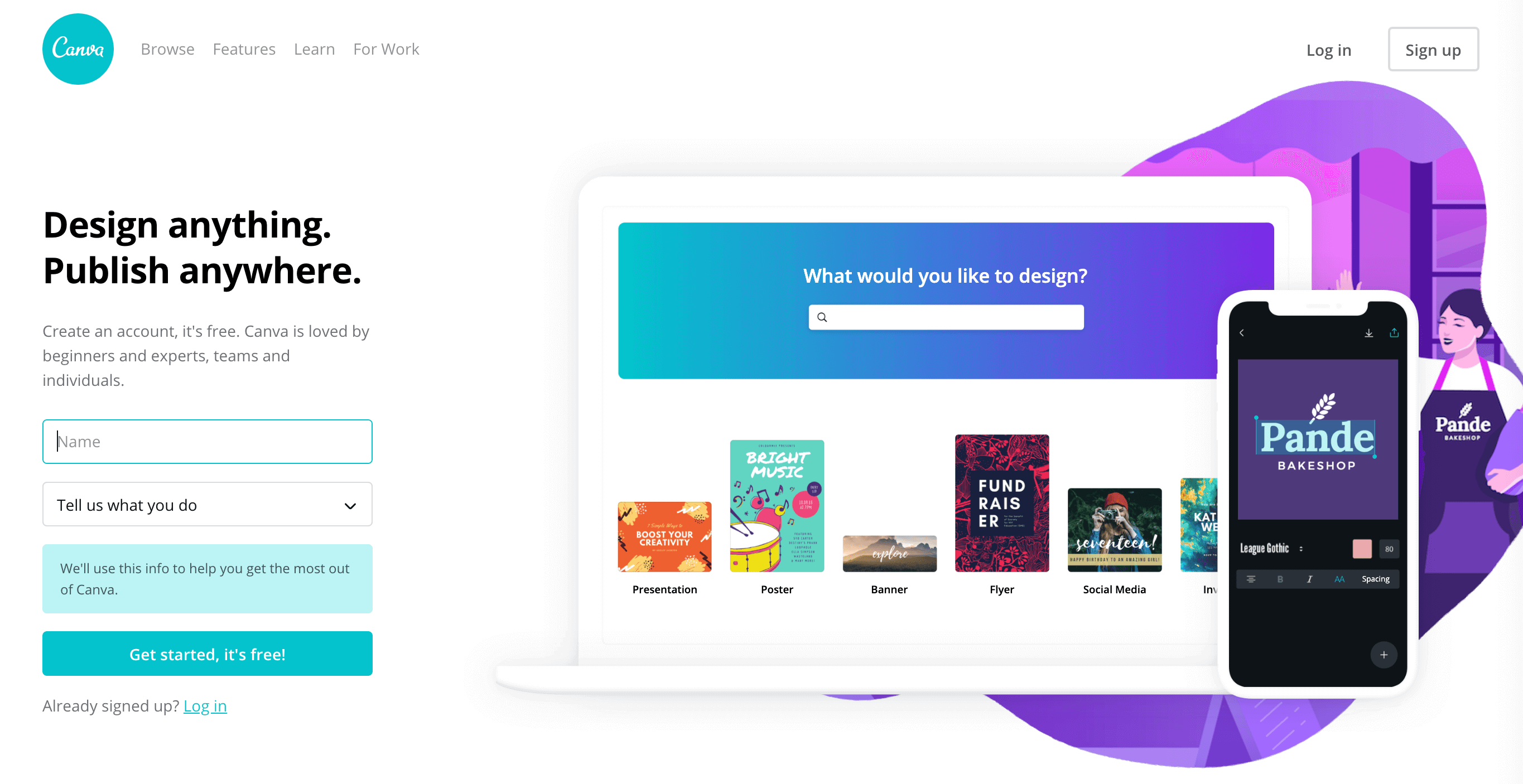 Canva is one of my personal favorites. As an Agile Project Manager, I have used Canva for a while now. It is not my exclusive go-to software, but Canva offers a lot of freedom and wiggle room for creativity. At first glance, it is an online tool with a compendium of images, both free and paid. You can create infographics, mind maps, flow charts, and an overall visually stunning work board.
Canva is more like an amalgamation of art, creativity and project management. As a free plan user, you will get 1GB cloud storage by default, extensive drag and drop functionality for creating images and a collection of 8,000 visual pieces.
Larger groups can benefit from the exclusive 'Canva for Work. Plan. This plan favors software companies, project managers and infographic creators who wish to give a detailed perspective to their tasks. If you are using the free plan, some of the images might have a "Canva" watermark. It can be removed with some Photoshop skills. However, you can pay as you go for per image rate if you want to auto-remove the watermark.
Features
Unlimited Canvases in both Paid and Free Plans. Just click the "+" button underneath each canvas to create a new blank canvas.
Drag and drop images from a collection of 8,000 pieces ranging over text, photos, and various visual categories.
Create informative designs with multi-format text overlays.
Export images in different file extensions.
HD image quality.
Automatic cloud backup support for limitless data loss. Just create an account and you can resume your work from the last time you signed out.
Pricing
Canva Basic Plan = Free.
Canva for Work = $12.95 Per Month.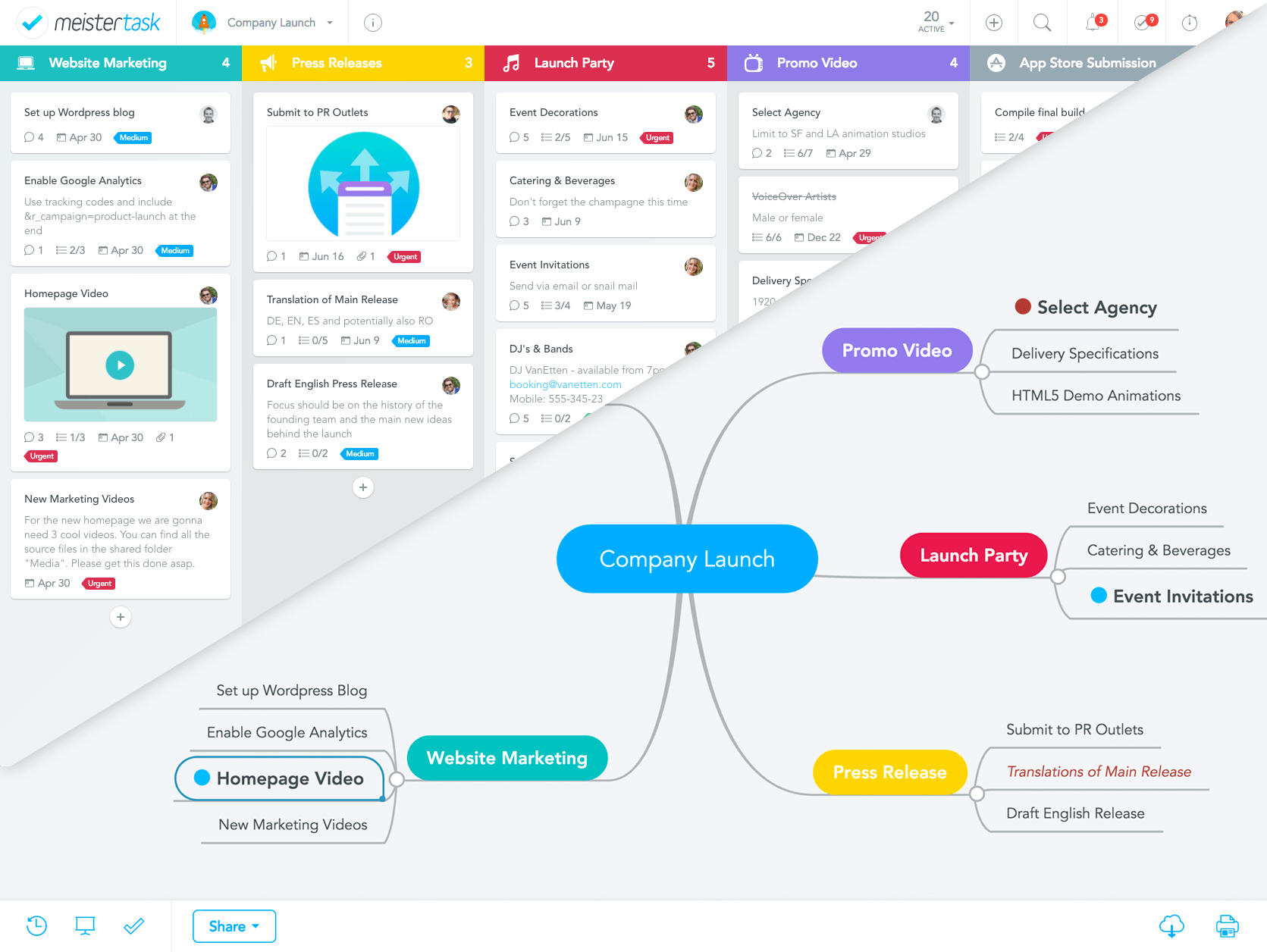 MindMeister has a staggering user base of over seven million people from all over the internet. Compared to Canva, MindMeister is second to best when it comes to multi-mode mind map creation.
While MindMeister offers a wide range of free tools to entry-level users, the majority of its users are from the business sector. People reportedly love to create mind map layouts, flowcharts, structured data diagrams, and strategic visuals to reflect their project planning phase.
The visual details in MindMeister are so rich that you can add vein-like lines as seen in cartographer software. On top of that, there are different options, templates and formatting styles to choose from. It is guaranteed that if two people are working on the same mind map, their final output will be visually different. It depends on how everyone uses the customized user experience for creating mind maps from blank canvases.
Features:
Web-based mind mapping solutions with 24/7 backup.
Excellent customer support.
Various project management functionalities, collaboration tools, integrated time stamps, and vice versa.
Create mind maps as a team to prioritize projects and set due dates as deadlines come by.
Multiple price plans.
Different building tools for people who wish to create presentations. You can add business intelligence data in a WIP presentation to reflect accurate information in data graphs.
Embed MindMeister visuals in your webpages for online visitors.
Pricing:
Basic Plan = Free
Edu Campus Plan for Students = $0.99 Per Month
MindMeister Personal = $4.99
Pro Plan Details = $8.25 Per Month
MindMeister for Business = $12.49 Per Month
For more details on "Edu" student plans, visit the official MindMeister website at the earliest.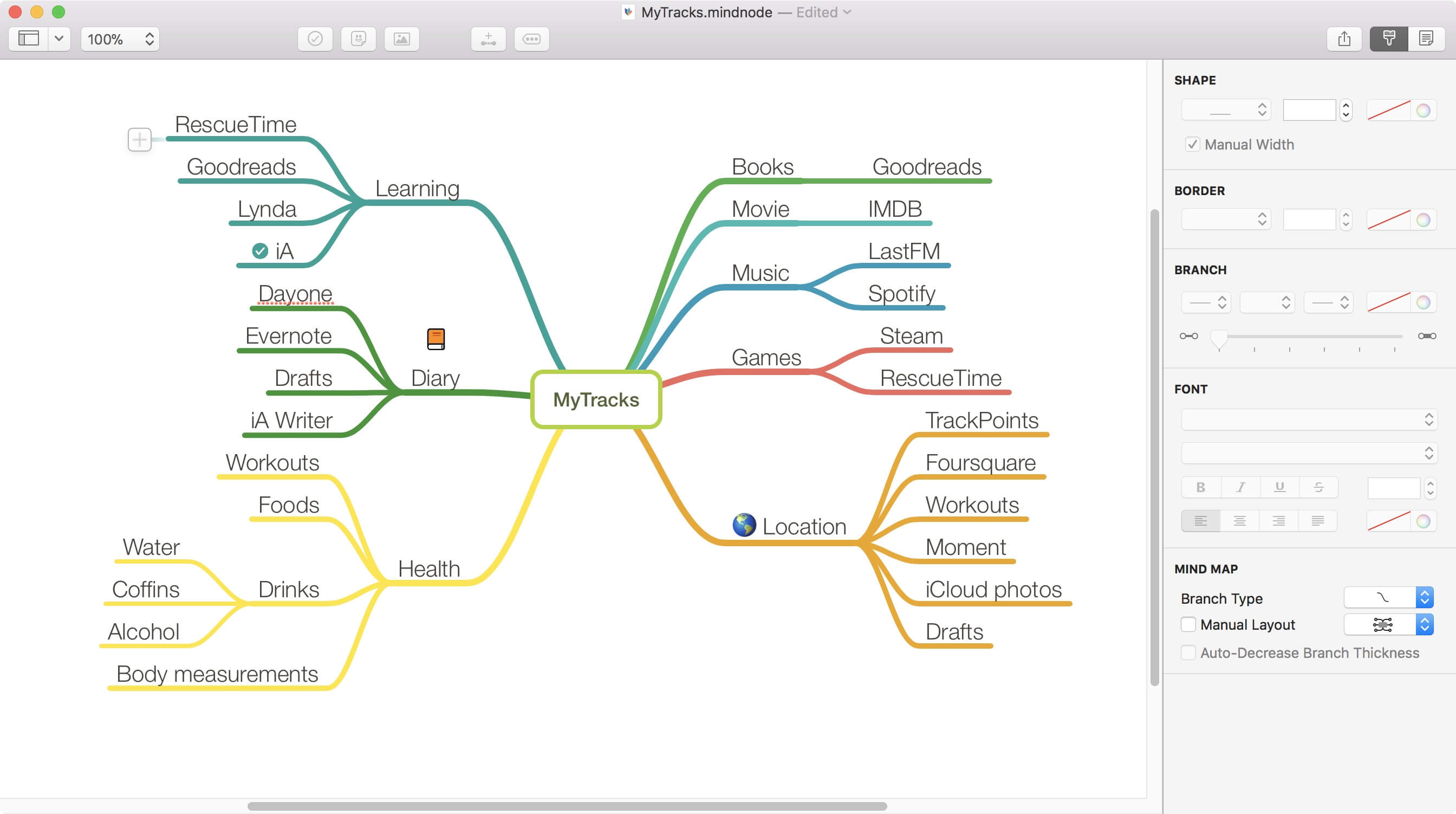 As a first-timer, if you need a no-fuss mind mapping software, FreeMind it is. The program has a very simple UI to help beginners with basic level brainstorming ideas. That doesn't mean that professionals don't use FreeMind – they do, but their user experience is completely different. I am talking about basic level individuals who wish to give a visual shape to their ideas.
Moving on, FreeMind comes with a drag and drop function. You can copy different nodes in different styles. Afterward, enter your text inside, outside or underneath the node for ready reference. You can also add tables and simple geometric shapes with color codes for some visual distinction.
FreeMind also offers a variety of integrations. The program can read HTML codes for URL redirects. It has more than enough tools to help shape a project idea from start to finish. However, if you are looking for next-level imaging options like Canva and MindMeister, this program lacks a little in comparison.
Features:
Easy drag and drop functions.
Choose from a variety of geometric shapes to create your mind map nodes.
Simplified user experience through a one-click navigation feature.
Build and design basic level mind maps for various projects and businesses.
Embed URLs in different parts of your diagram to redirect users to external sources.
Supports multiple operating systems.
Pricing:
FreeMind Trial = Timed Version.
FreeMind Basic = Free.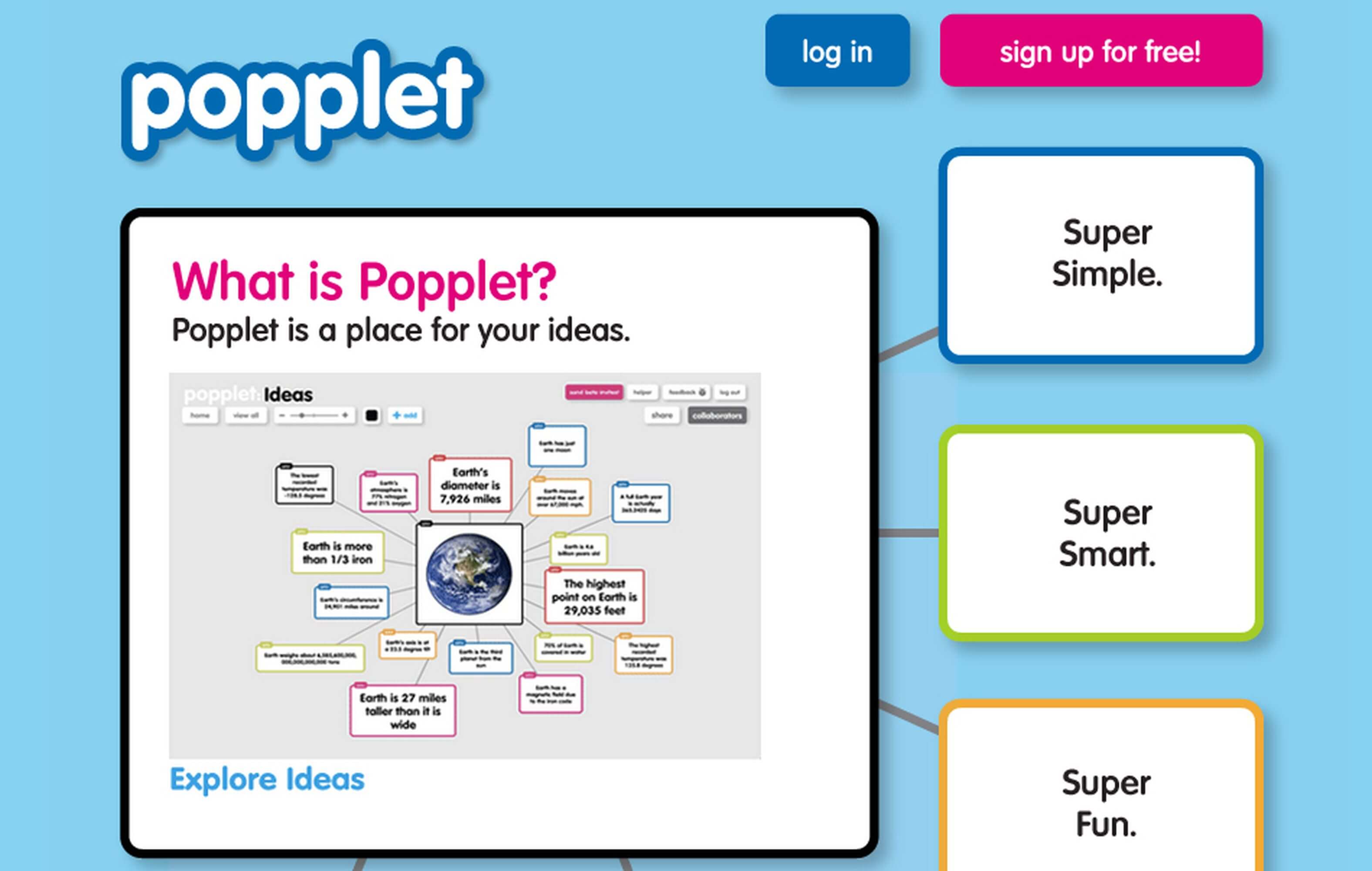 If you are an Android user, you may not have heard of this mind mapping software. It is an iOS exclusive, which is a bit of a letdown for Windows and Android community. However, there is a workaround solution if you don't have an iPad. You can use the Web-based version of Popplet by accessing their official website.
Popplet has a very select user base. It is an ideal mind mapping software for work at home moms, freelancers and especially school going kids who wish to hone their creative skills. You can pretty much organize, color code, capture and share your work easily. If you are looking to use such a tool as an individual business owner, or just a starter, Popplet is the right choice for you.
Features:
Multiple language support for users from all over the world. Add text overlays in the language of your choice.
Simplified URL variations to hyperlink your text and images to specific websites.
Grant parent-child permissions on different canvases.
Generate parent-child level 'Popples'.
Use tracer tools if your drawing skills are shabby.
Insert text overlays, format them and color code nodes for mental references.
Pricing:
Popplet Basic: Free
Personal User Plan = $30 Per year
Personal Use Monthly Plan = $3 Per Month
Each pricing plan restricts the total number of users to it. If you want to add more users, you can do so with the addition of some extra cost. Please refer to Popplet's official price chart available on their website.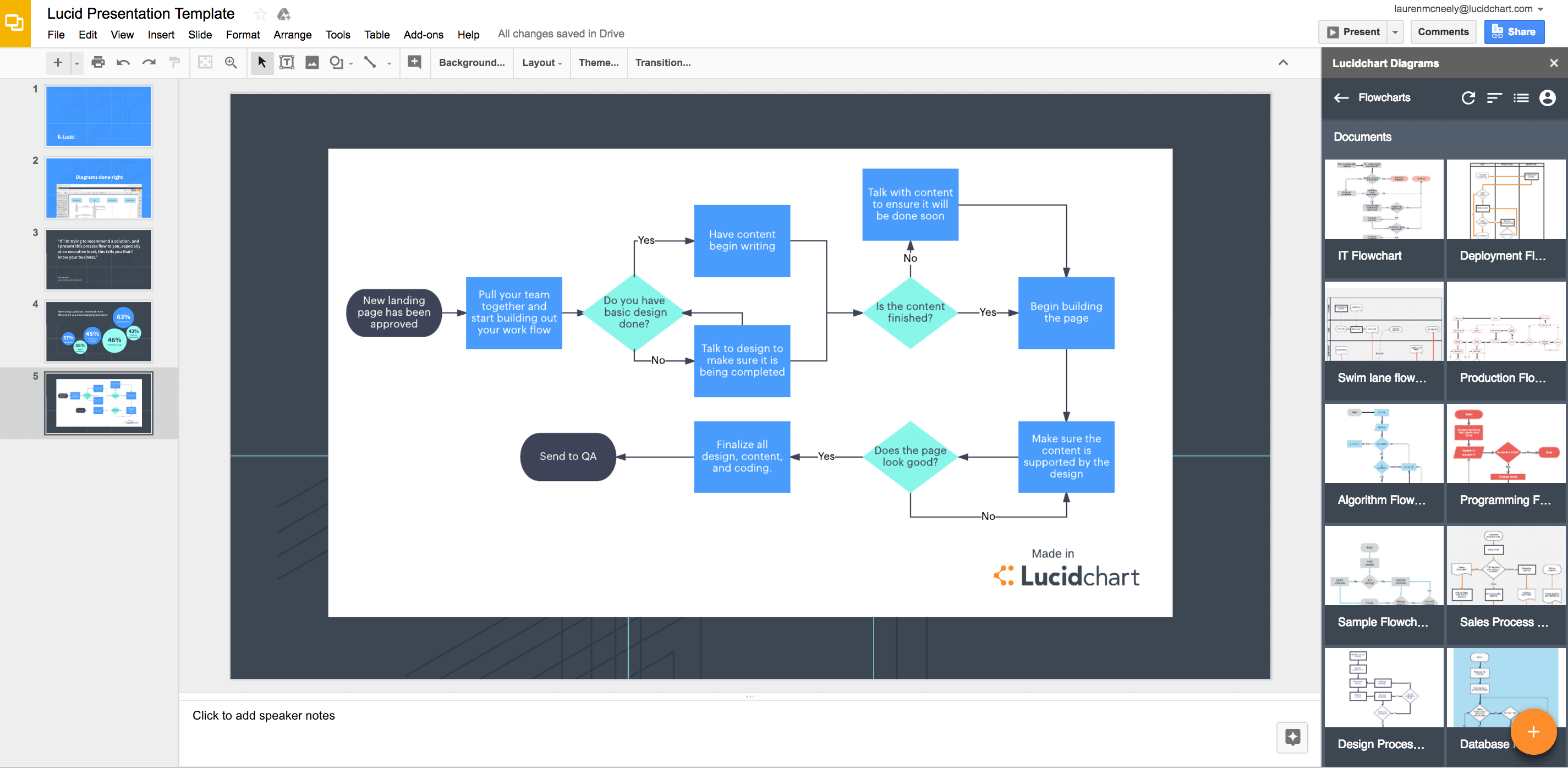 This one is another web-based mind mapping solution available to various businesses of different sizes. LucidChart is not everyone's cup of tea. Most of the users are associated with Adobe, Amazon and such other companies where mind mapping is based on very complex technical diagrams. If you are such a user, you already know of this software. Chances are, you are probably using this program or some alternative customized version provided by your company.
LucidChart is lined up with real-time collaboration tools, various communication modes, and different tools to advance ideas from a single node. Top it all off with a wide range of integration support to embed different data sets from 3rd party apps. Likewise, you can also export your work in different file extensions for portable viewing experience across all ranges of devices.
Features:
Perfect for fast-growing large scale IT and non-IT businesses.
Since the program is completely online, it does not have to go through complex network installations.
OTA updates constantly keep bringing new features to LucidChart loyalists.
Communicate and collaborate through group chat, IM and project boards.
Supported by different data centers and an added encryption layer to keep your work secure 24/7.
Pricing:
LucidChart Basic = $5.95 Per Month.
Pro for Advance Users = $9.95 Per Month.
LucidChart Team = $34 Per Month
If you are an enterprise-level user, please contact the official LucidChart support staff for a customized quote.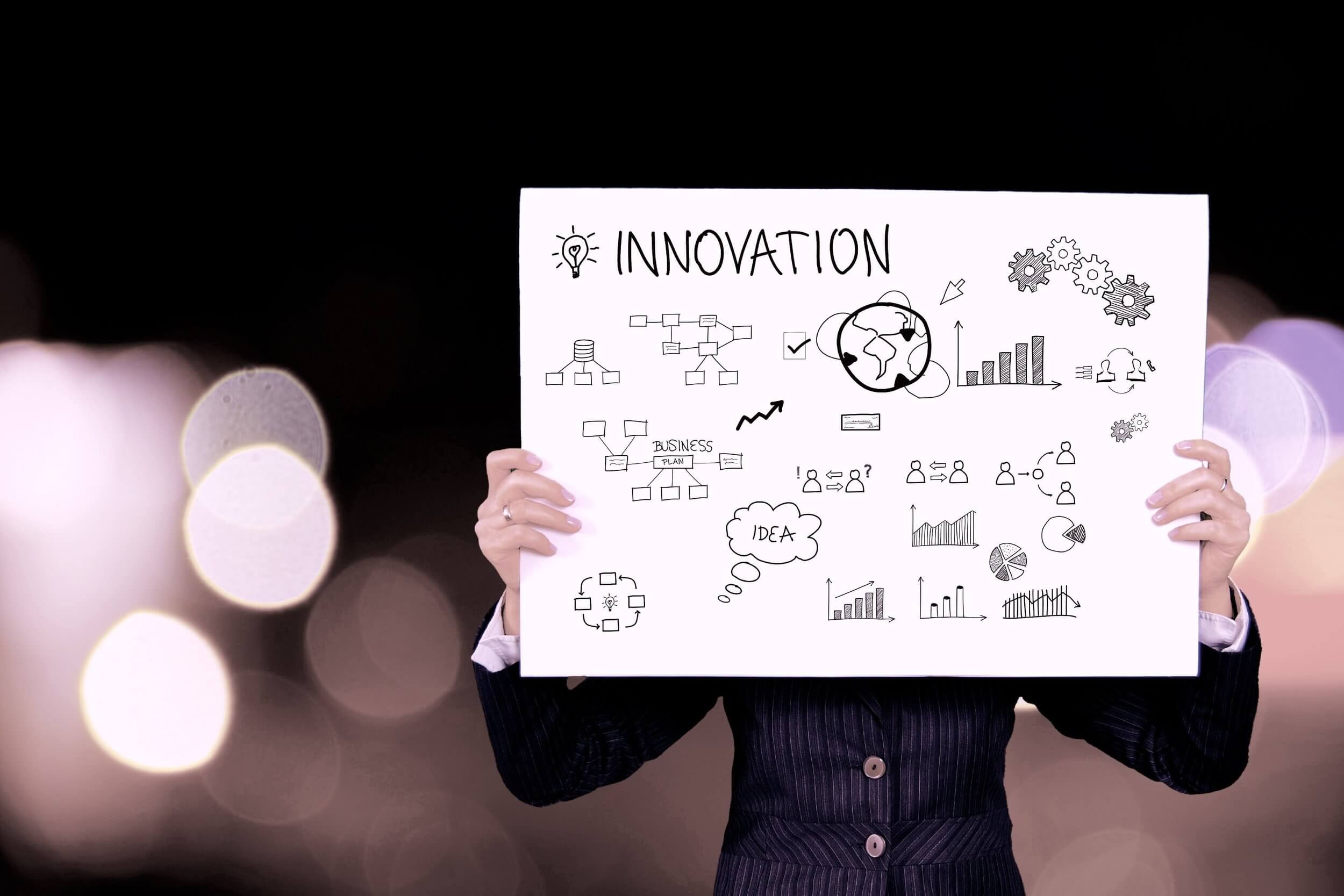 If your hunt for a mind mapping software is centered towards simplicity and flexibility, Scapple is for you. The tool comes with a massive room for customization and allows you to freely construct mind maps the way you want.
When you launch the tool, you are welcomed with a clean slate that gives you the liberty to doodle away your thoughts — keeping the artist-y soul inside you at peace. Make connections just the way you do it on a simple paper, and make changes as many times as you want.
To further make things easy, Scapple comes with a simple drag and drop interface to help you quickly connect the ideas and make more sense out of them. Also, you can stack the related ones together in the form of a column for easy retrieval whenever required.
The tool is deceptively simple, so if you're looking for an advanced mind mapping software, you may want to pass.
Features
Easy drag and drop functionality to make instant changes.
Options to customize your notes the way you want, according to your preferences.
Background shapes to group related notes.
Ability to export or print your mind maps for convenient sharing with anyone.
A full-screen mode that helps you stay focused on your thoughts.
Pricing
Scapple comes with a free trial of 30 days. You need a license to keep using it after the trial period ends.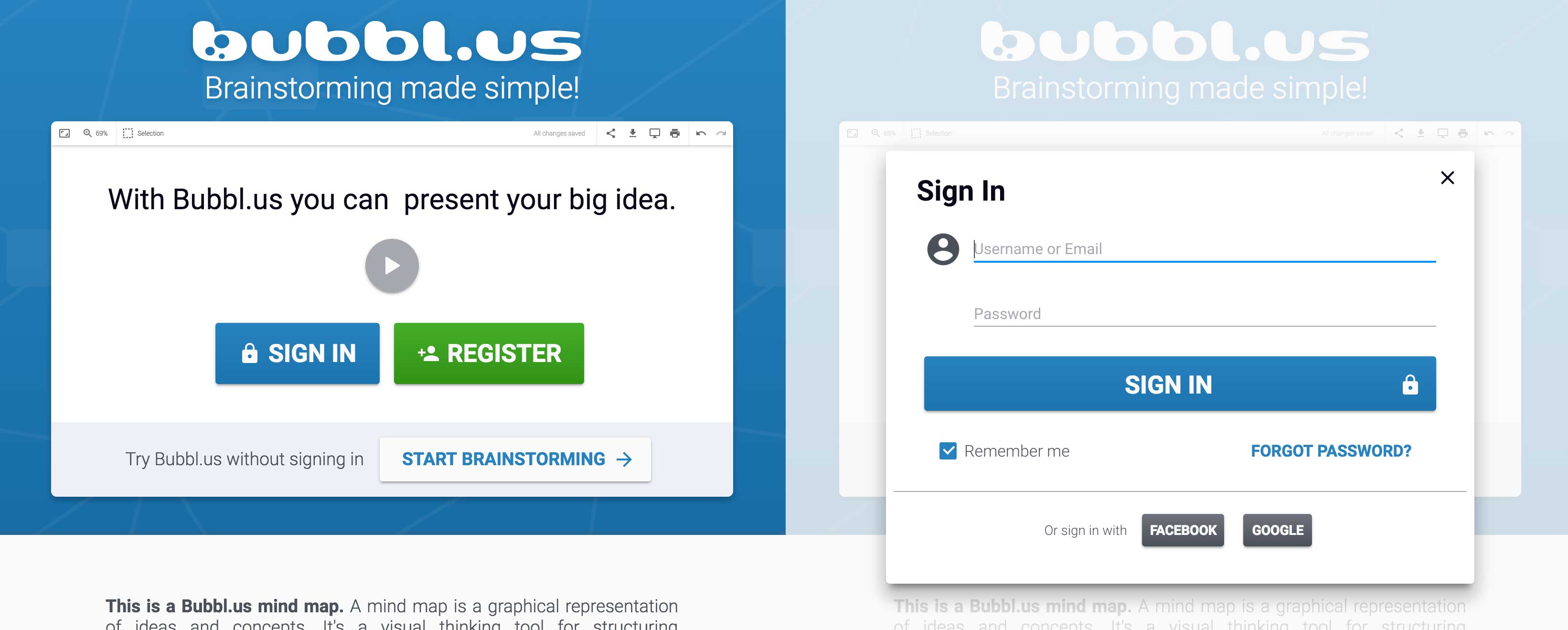 Bubbl.us is an online brainstorming tool that is designed to help teams collaborate on ideas. The name of the tool is derived from a simple fact that your thought bubbles need to be organized into a structure to help understand them better.
Solely focusing on ease and simplicity, Bubbl.us does not overwhelm you with a complicated feature set to structure your ideas. Which is exactly why it's a perfect choice for small teams that are in the development phases.
The tool relies on simple mind map diagrams to generate ideas. These diagrams can be constructed on a board and then shared with team members to brainstorm on projects. Kind of like a whiteboard, only virtual. You can also save your diagrams in the form of an image to further make sharing easy.
Features
Colorful diagrams which make the interface look aesthetically pleasing.
Sharing of diagrams with team members to collaborate on projects.
One-click presentation to instantly demonstrate the ideas.
Entirely web-based with no options to download anything.
Pricing
Bubbl.us free version – for up to 3 mind maps.
Bubbl.us Premium version — $6 per month.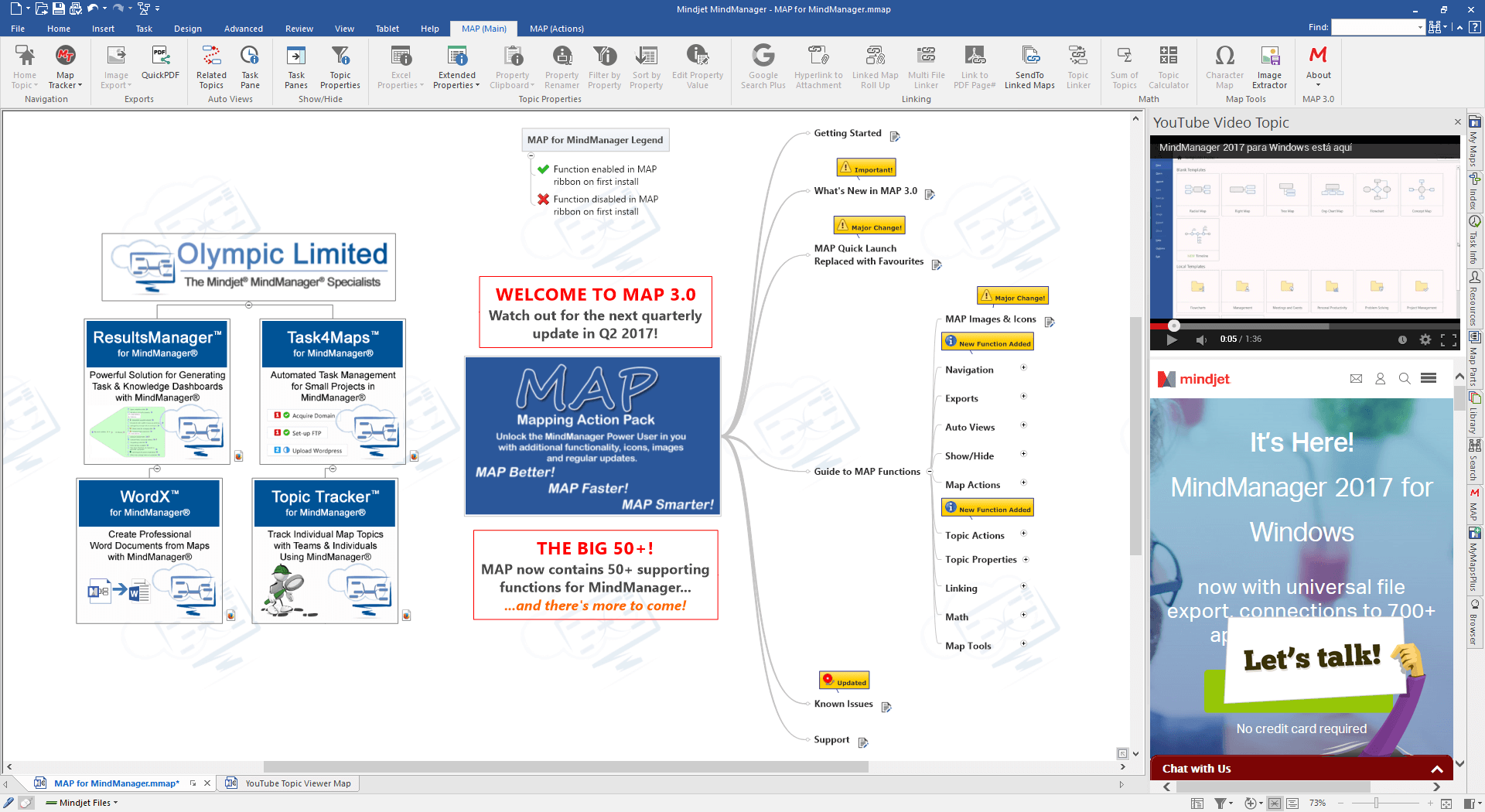 This mind mapping software has plenty of advanced features to give your team the push it needs. Just like a whiteboard, you can use the platform for a quick brain-dump to start making connections. You can also include any extra notes, files, or links with them to add more context.
Instead of providing only the basic mind maps, MindManager takes it up a notch by giving you the ability to add due dates, priorities, and dependencies to make things crystal clear. These dependencies can be easily adjusted whenever required, through drag and drop.
The tool integrates seamlessly with Microsoft Office, in fact, it resembles it too. This makes it a go-to choice for Office users, or enterprises. The advanced functionality that unlocks with the Enterprise version of the tool makes it extremely professional looking and at par with industry standards.
Features
A visual framework of mind maps, along with easy navigation.
Due dates, priorities, and dependencies.
Compatibility with Microsoft Office.
Dashboard map to get a clear picture of everything involved.
Project planning and task management capabilities.
Multi-language support.
Android and iOS apps to take your work on the go.
Pricing
MindManager has a license based pricing structure which starts at $327 per license.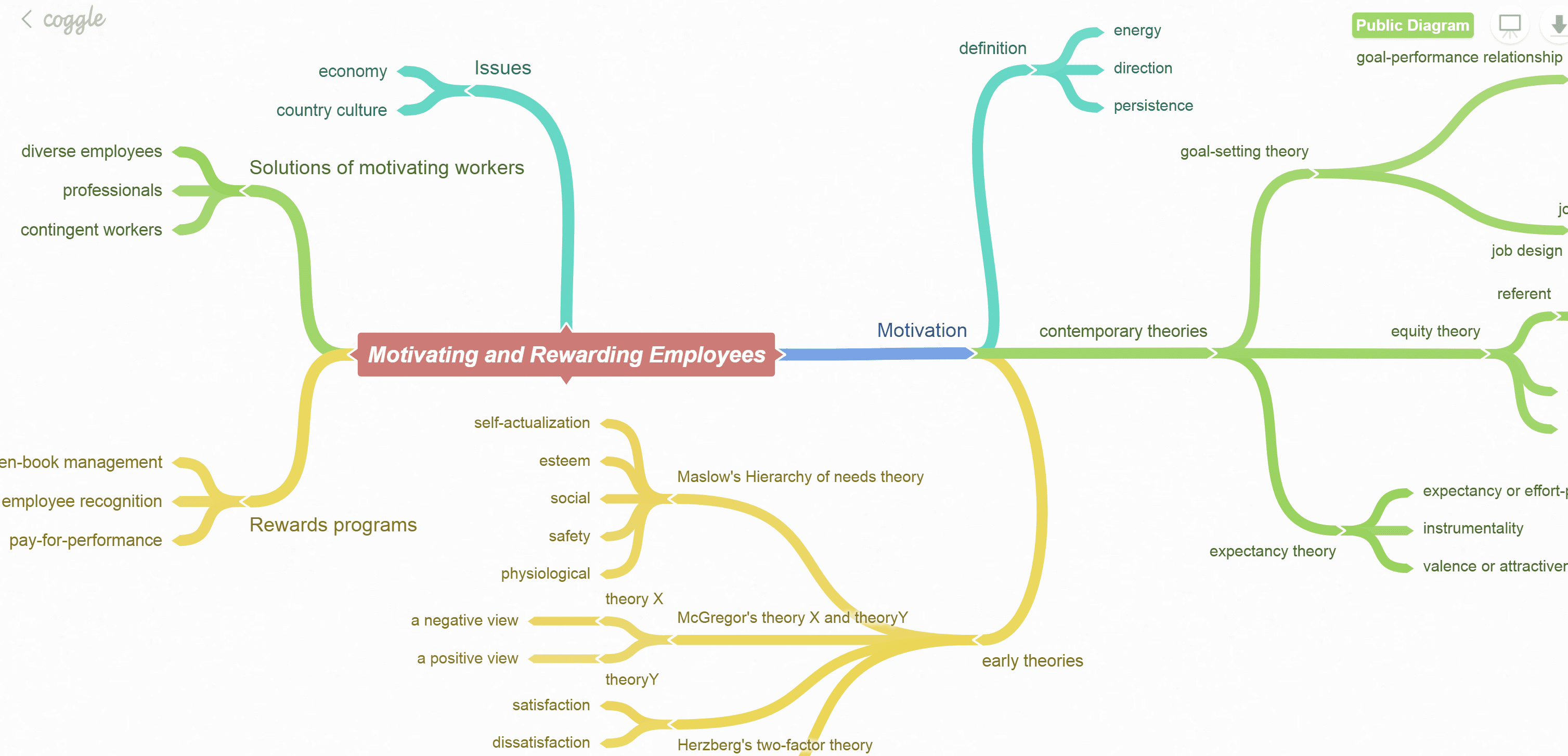 Coggle is yet another flexible mind mapping software, which comes with an added benefit of team collaboration features to keep things aligned. Create a flowchart with multiple starting points and extend them into sub-branches without any hassle. It's perfect for complex enterprise-level diagrams.
The tool comes with multiple editing options to help you make changes according to your requirements. For instance; when creating a diagram, you can add floating images or text to include additional information as a context.
In case you don't want to create things from scratch, the tool's built-in library of flowcharts and diagrams makes your work easy for you. Furthermore, invite as many team members as you want, to collaborate on ideas. The invited members also have the leverage to make changes to your mind maps.
Features
Loop diagrams to denote process flows.
Ability to add floating text or images to diagrams.
Native diagrams and flow charts for quickly gearing up.
Unlimited invites option, along with private access to mind maps.
Unlimited image attachments from the desktop through drag and drop.
Pricing
Free Plan – $0 for most of the tool's core features.
Awesome — $5 per month.
Organization — $8 per user/month.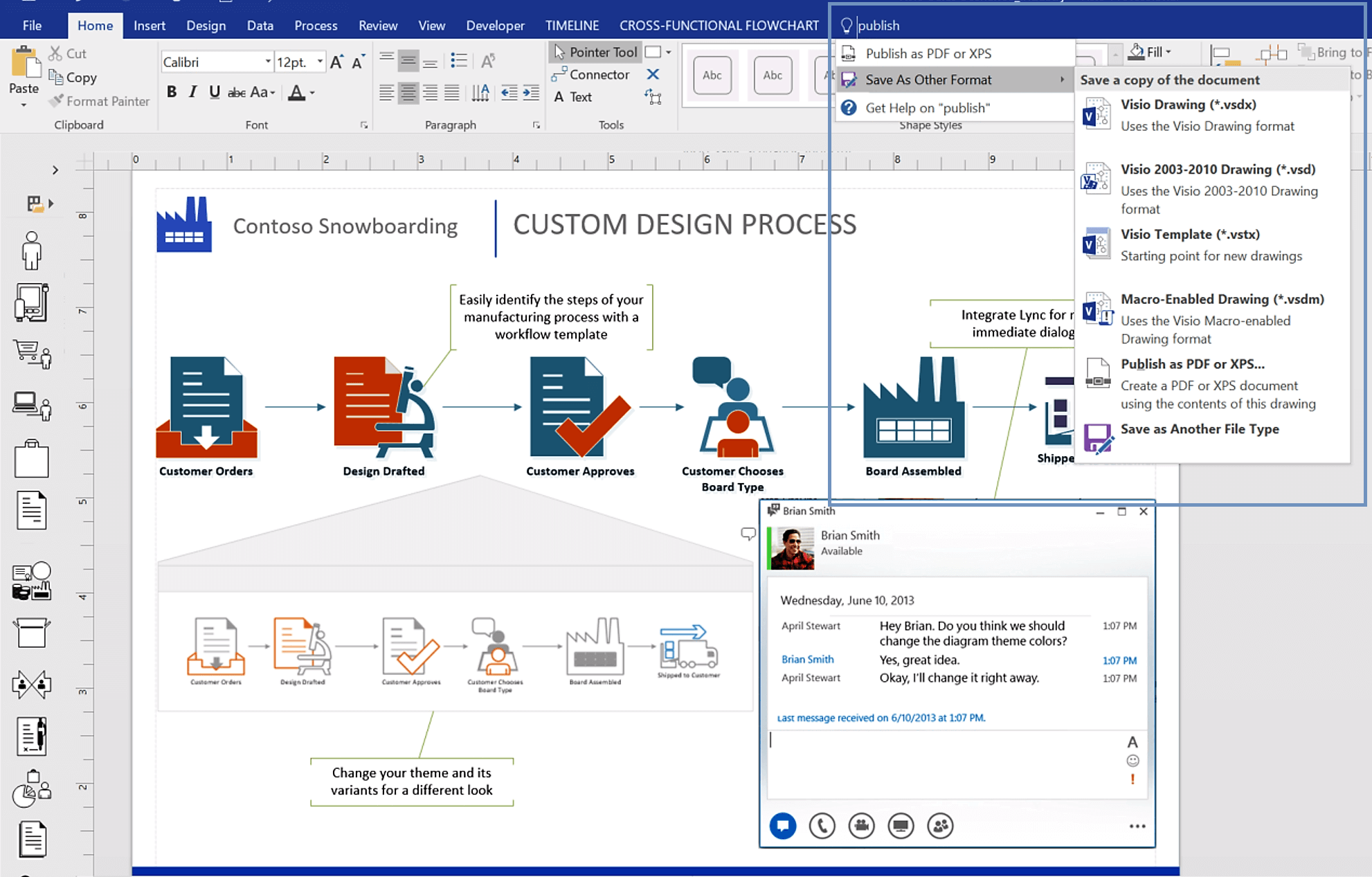 Microsoft Visio is a Microsoft backed mind mapping software that comes with pretty much everything you'd expect from a standard mind mapping tool. It comes with an option to integrate it with Office 365, in case you want to enhance the tool's functionality.
The software gives users the ability to connect the flowcharts and diagrams to their data. That way, the changes made in data are automatically updated in the respective diagrams. You don't have to do much of the work here. It's a great way to visualize your daily KPIs or any data that varies on regular intervals.
The online version of the software allows you to work from anywhere and make changes on the go. So, you don't have to worry about leaving your work behind anymore.
Features
Built-in library of templates for diagrams and flowcharts.
Integration with Office 365 (comes with separate license).
Easy drag and drop for connecting, resizing, and rotating objects.
Ability to connect Visio with other Office programs and generate diagrams.
Coauthoring, commenting, and annotation tools available with specific plans only.
A wide array of export formats, including JPG, GIF, BMP, PNG and more.
Pricing
Visio Online Plan 1: $5/user/month (billed annually) or $6/user/month (billed monthly).
Visio Plan 2: $15/user/month (billed annually) or $18/user/month (billed monthly).
Visio Standard 2019: $280.
Visio Professional 2019: $530.
Be sure to check back later as we append this post with updated mind mapping programs. If you have been using mind mapping software, do share your experiences through the comments section below.
Software
IT
Mind map
Diagram
agile