The 8 Best Excel Alternatives for Project Management and Spreadsheets
The 8 Best Excel Alternatives for Project Management and Spreadsheets
Feature-packed and varied, there are a number of competitors to Microsoft's Excel application for both project and spreadsheet management.
Join the DZone community and get the full member experience.
Join For Free
Even today, when project management and spreadsheet programs are getting better by nearly every conceivable standard, Microsoft Excel is still a popular choice for many.
Whether it's owing to the fact that it is a simple spreadsheet platform which allows maximum customization, or that it lets you quickly process data, Excel is an essential tool in many workplaces.
But the mere popularity of the tool can't mask the reality that for advanced functionality revolving around different kinds of datasets, you will need a powerful Excel alternative, particularly if you're using the tool for project management. We've got proof to validate this.
The reasons mentioned in that article should be motivation enough for you to switch to an alternative to Excel. If you don't know where to start, or how to switch, don't worry!
We've compiled for you a great list of Excel alternatives, and to make things even better, we categorized them according to the project management and spreadsheet functionality.
Let's start.
The Best Excel Alternatives for Project Management
Microsoft Excel comes with pre-built project templates to help you get started, but other critical project management features, like time tracking and collaboration, are missing from the platform. Therefore, we're starting off the list with Excel alternatives you need for project management:
1. nTask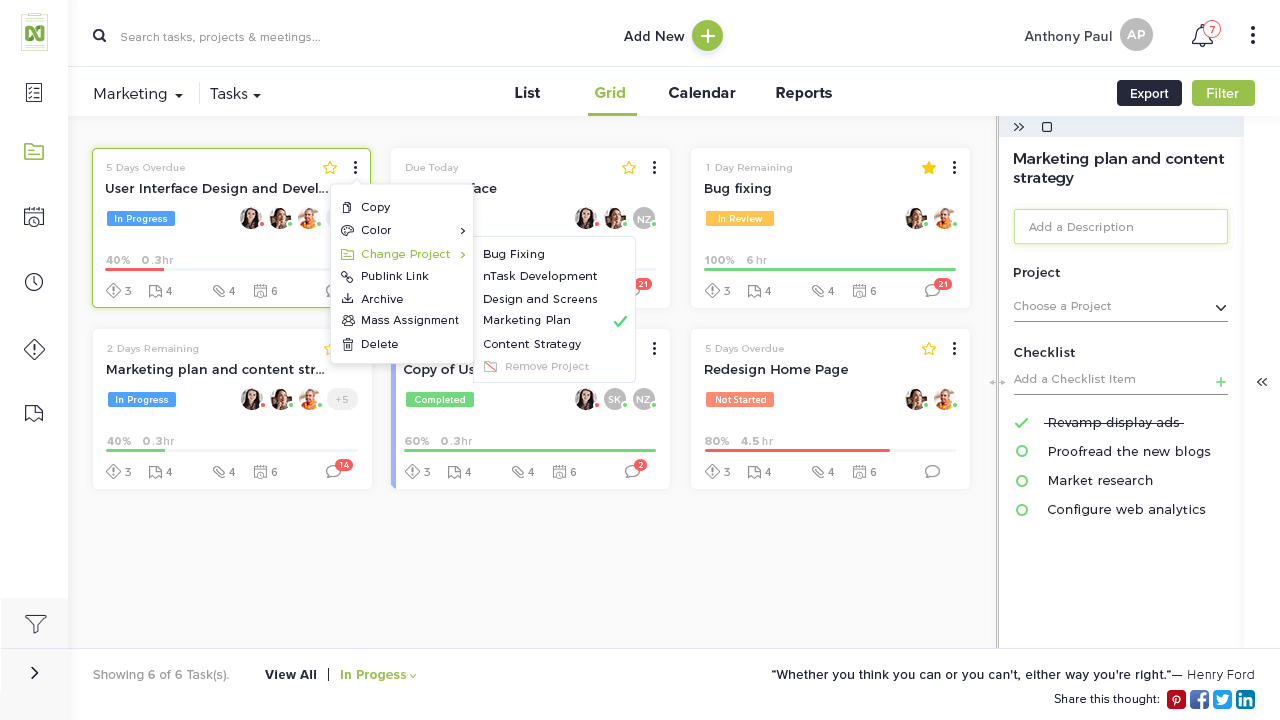 nTask grabs the first position in this compilation.
The tool makes an impression by coming up with features that you would normally get access to through third-party application integrations. An all-arounder when it comes to handling projects, nTask makes a pretty solid alternative to Excel.
nTask makes project management easier for you by allowing you to store, process, organize, and collaborate – all through one platform.
The core functionalities associated with task management, time tracking, and project reporting can be experienced through a clean user-interface intelligently designed to bring maximum user ease.
Top Features
Task management through a comprehensive feature set including task assignment, task recurrence, prioritization, and task status.
Advanced project scheduling and reporting through built-in Gantt charts.
Time tracking module facilitating timesheet management and tracking of individual task efforts.
Meeting management module for scheduling meetings. Manage agenda, recurrence, follow-ups, and decisions to share with team members.
Issue management for identifying and resolving issues associated with your projects in a timely manner.
Risk management for documenting potential risks and devising a mitigation plan for effectively dealing with them.
Dedicated workspaces for teams working on multiple projects simultaneously to ensure a transparent flow of information.
Powerful collaboration features, like comments within tasks and timesheet approvals.
Notifications, reminders, and alerts for staying on track.
Third-party application access.
Pricing
You can experience all these features and many more for free, and through an upgrade to the Pro plan of the tool for $2.99 per user/month. Got a large team? nTask also caters to enterprises through their customizable Enterprise plan.
2. Jira
The next Microsoft Excel alternative we have is Jira. A powerful tool quite popular with software teams, Jira provides workflow mapping for projects, along with multiple other Agile development functionalities for releasing the software effectively.
The tool makes sure things are done right from the beginning by providing an array of features to plan, track, and report efficiently.
To track your project performance in real time, you can get access to a vast library of Agile reports, ranging from basic burndown and burnup charts to more advanced sprint reports and velocity charts.
Key Features
Scrum boards
Kanban boards
Customizable project dashboard
Project roadmap
Bug and issues tracker
Customizable workflows
Custom search filters
Powerful Agile reports
Third-party application integrations
Pricing
Jira offers a free trial for seven days and paid plans. The paid plans start from $10 per month, which changes with the number of users.
3. Smartsheet
Smartsheet provides project management solution to teams through a spreadsheet-like interface.
The software comes with a dynamic mix of tools providing a range of features like resource management, document management, pre-built project templates, and team portals.
Being a spreadsheet program at heart, Smartsheet passes as a pretty solid Excel alternative, but with some enhanced project tracking functions and greater customization options.
Key Features
Project dashboard
Gantt charts
Team portals
Activity log
Resource management
Project templates
Document management
Shareable sheets
File attachments
Custom themes
Reminder notifications
Pricing
Smartsheet allows testing of their product through a fourteen-dat free trial period. After that, the plans start from $14 for individuals and $25 per user/month for businesses. If you're running an enterprise, you can contact them for pricing.
4. Airtable
Airtable is a cloud-based project management software which combines the functionality of a spreadsheet and database to provide the most user-friendly experience while managing projects.
A free Excel alternative, the tool comes with a pleasing design and easy interface to help users have fun while getting things done.
Facilitating multiple views for data visualization, Airtable lets you organize your work the way you want. You can also create multiple databases in one location for quick and easy access.
Key Features
Task management
Video chat functionality
Time tracking
Pre-built project templates
Issues and bug tracker
Powerful project sorting filters
Client project tracker
Safe file attachments
Multiple third-party application integrations
Pricing
Airtable comes with a Free plan which offers some essential features. The paid plans start from $10 per user/month – billed annually.
The Best Excel Alternatives for Spreadsheets
It wouldn't be fair on our part if we didn't include alternatives for Excel spreadsheets, because a lot of you rely on spreadsheets for your daily task management.
5. Google Sheets
An easy-to-manage alternative to Excel, Google Sheets is quite similar to Excel when it comes to functionality and design. There are a few things that Excel lacks when compared with Google Sheets.
For starters, all your files are stored in the cloud, which means you can access your data from any device and at any time you want.
An interesting feature of Google Sheets is that you can share them with anyone and work together simultaneously. You can even add comments and chat with your team members to collaborate instantly.
Key Features
Project templates
Charts and graphs
Comments within sheets
Chat functionality
Shareable spreadsheets
Automatic data backup
Third-party add-ons
Pricing
Google Sheets is free.
6. LibreOffice
An open source office suite, LibreOffice is a quite popular free Excel alternative. Compatible with a wide range of document formats, the tool is an excellent exporter of data and provides maximum control to the user.
LibreOffice comes with 6 component programs which essentially make up the complete office suite. These components are Writer (word processing), Calc (spreadsheets), Impress (presentations), Draw (vector graphics), Math (formula editor), and Base (databases).
Key Features
Word processor
Presentation templates
Powerful diagraming and flowcharts
Pivot table
Compatibility with other document formats
Data export functionality
Pricing
LibreOffice is free.
7. Zoho Sheet
Another cloud-based spreadsheet program, Zoho Sheet grabs seventh position in our list of Microsoft Excel alternatives. The application provides real-time collaboration features, alongside essential spreadsheet functionality.
For ensuring maximum data security, Zoho Sheet provides you with an option to lock particular cells in a spreadsheet. Moreover, with version history feature, your data is backed up for you to access it anytime you want.
Key Features
Shareable spreadsheets
Comments within sheets
User-specific lock settings
Version history
Multiple charts and graphs
Checklist management
Compatibility with other document formats
Public and private spreadsheets
Pricing
Zoho Sheet is free.
8. Numbers
Stepping into the game of spreadsheet programs, Numbers is Apple's version of Microsoft Excel. Numbers provides high-quality data visualization tools and reporting functionality to users. The application comes with pre-built templates, numerous customizable shapes, and donut charts to help you convert your data into beautiful presentations.
Spreadsheets can be easily shared and edited by anyone to make sure they don't miss any update.
What's even more interesting about Numbers is that even if someone prefers to work on Excel, you can save a Numbers spreadsheet as an Excel spreadsheet and continue to work.
Key Features
Ready to use templates
Smart categories for organizing data
Donut charts
Interactive diagrams and graphs
Customizable shapes
Shareable spreadsheets
Password protection
Compatibility with Microsoft Excel
Pricing
Numbers is free.
Project management
agile
Microsoft Excel
scrum
Data visualization
Google Sheets
application
Task (computing)
code style
Template
Trending
Auto-Scaling Kinesis Data Streams Applications on Kubernetes

What Is JHipster?

Replacing Apache Hive, Elasticsearch, and PostgreSQL With Apache Doris

Which Is Better for IoT: Azure RTOS or FreeRTOS?