Top 7 Affiliate Programs for Testers and Developers
In this post, we bring you the top 7 affiliate programs for developers and testers. Listed are their features, including monetary benefits, for testers.
Join the DZone community and get the full member experience.
Join For Free
Introduction
Developers and testers are the core members of a project. They are the ones who regulate, develop, and analyze every aspect of the project. They perform important roles in the market. While they focus on their work for the most part of their day, they can still help other businesses flourish in their free time. These tech geeks with their supreme knowledge can add more value to their company, and also themselves, through affiliate programs.
Affiliate programs are an arrangement through which an online merchant sends traffic to a website and is paid accordingly. Affiliate programs are also called associate programs. The merchants promote the products of the websites via writing an article, creating a video explaining the benefits of using the product, promoting through websites or banners, or via any other legal medium. An affiliate link (or reference code) is provided to the affiliates and when any purchase is done through the link, the website pays the merchant as part of their help. The merchant gets the money and the site or the tool gets identity and promotion. This way it becomes a win-win situation for both parties.
You must have seen your favorite social media influencer promoting and recommending a product to you and asks you to purchase that using a 'referral code'. When you purchase any product using that reference code, two things happen. First, the product is sold, providing benefit to the company, and second, the use of the reference code provides benefit to the influencer.
In this post, we bring you the top 7 affiliate programs for developers and testers. We have also listed their work and benefits in this post. You can choose anyone from the list as per your interest. So, without further adieu, let's get started!
Aspiration Hosting Partner Plan
Aspiration Hosting is a USA based cloud hosting service that mainly focuses on Magneto hosting solutions. They also provide services for PHP applications such as WordPress, Drupal, SimpleMachine Forum (SMF), Joomla, etc. Since 2008, it has continuously provided the best services to its customers for PHP based products.
Aspiration Hosting provides an affiliate program for testers and developers. Generally, a web developer is often asked for some or other kind of hosting advice. The queries that are raised by the client are mostly based on themes or plugins whose use would apex the features of the website or e-commerce store. The developer just needs to do a little brainstorming and recommend the product depending upon the customer's query. The developer can also fine-tune the affiliate programs to fulfill the need of the customer to increase the sales of the company.
Features of the Partner Plans:
Developers and companies who refer to their products can get lifetime commissions.
It provides a 15 % lifetime revenue share.
To get enrollment in the partner directory, you just need to get 5 referrals.
There is no expiration for cookies.
LambdaTest Affiliate Program
LambdaTest is a cloud-based cross-browser testing platform. It allows you to test your website across 2000+ browsers, operating systems, and resolutions on a real-time basis. Along with that, you can also use this platform to perform responsive testing, automation testing, and functionality testing. It provides easy integration with many testing frameworks including TestNG, Selenium, etc.
Users can perform parallel test execution across various browsers and operating systems. With LT Browser (a mobile testing product launched by LambdaTest) any user can perform web mobile testing with ease over 45+ different screen sizes. If you want to capture a screenshot or wish to record your entire test session, you can attain that using LambdaTest.
The LambdaTest Affiliate Program grants you the opportunity to become an esteemed member of the LambdaTest community by promoting their products and making money out of that. Developers and testers can promote their product either by reviewing the product on their website, through banners, sharing the products on any social media platform, mailing the product details to their customers, or can opt for any other legal way.
Features of the Affiliate Program:
They provide a 50% commission on your first transaction to the manual testing plan.
LambdaTest provides cookie length for 90 days.
You will get a 25% monthly commission for a lifetime on the manual testing plans.
There is a 15% commission on the automation testing plans.
It accomplishes the requirements of the Enterprise and the individual as well.
Product Testing Affiliate Program
Product Testing is a website that delivers honest reviews and experiences about any product. This website was started in the UK and after gaining good popularity among the masses, they are now extending their branches to the USA and Australia as well.
The range to review products is endless. Being a technical person, you can test the latest mobiles or Playstations and the fun element to this is that you can later keep the product and become an affiliate member for the website. While testing the devices, a few technical bugs may occur that only a tester can easily point out, whereas the non-technical person cannot find those bugs. Hence, it becomes an easy task for the developers and tester to earn some freebies and help the world.
Features of the Affiliate Program:
You can choose and test any product from a stack full of various products.
They ensure you a very high commission as one of their affiliates.
Keep track of commissions regularly.
SerpStat Affiliate Program
SerpStat is an all in one SEO platform. It has 5 different modules that satisfy its individual purpose. The modules are rank tracking, backlink analysis, keyword research, site audit, and competitor research. You can keep track of your projects, view their history and analytics report using this tool. They are an SEO specialist, PPS specialist, and are content managers, and digital marketers. Companies like L'oreal, Samsung, Uber, Philips, Shopify are the partners of SerpStat.
Now let us talk about the SerpStat Affiliate Program. To be a part of the SerpStat group, you need to promote their product through blogs or any other social media platform. Being a technical person, you would know everything in detail about the products, which will be a bonus while selling the product. Along with developers and testers, this affiliate program would be highly beneficial for technical bloggers, owner of an SEO, PPC based agency, freelancer or a lecturer or owner of an educational institute. You can earn up to 30% commission by selling their products. Initially, you'll get a 5% commission on your first payment, then inch by inch you'll move forward.
Features of the Affiliate Program:
The affiliates receive a lifetime bonus for all the payments made through their referral code.
The affiliates are provided with a personal landing page, promo materials, and support at all stages.
They make a weekly payment without any delay.
A strong 3- level team (Team of sales, support, and customer success) who take care of your leads.
Software Testing Help Affiliate Program
Software Testing Help is a website that provides tutorials on various aspects of the testing of software. They have been in the market since 2006 and have a good reputation. STH has created a good market value and has over 300,00+ followers and millions of viewers.
A developer and tester are the core base of any project. Depending on their experience, they can create a fantastic article or video content around any topic of their choice. Software Testing Help just needs to refer their product and services to your clients and customers. The affiliates promote STH's e-books, ISTQB study guide, training course, and videos. The best part about them is that they don't have any hidden charges.
Features of the Affiliate Program:
They pay a net 33% commission on every sale you make.
The commission is provided to you once you reach $50.
Provides a personal landing page for the affiliates.
Test Sigma Affiliate Program
Test Sigma is a cloud-based automation testing tool that is used for continuous testing in the field of Agile and DevOps that makes test automation simple, affordable, and faster. Users can test web applications, mobile applications, and APIs constantly by using this testing tool. The most notable feature of Testsigma is that you can build stable and reliable tests faster just by using simple English language. It is a codeless test automation approach. They commit to providing their users with the fastest planning, designing, developing, execution, analysis, reporting, and maintenance of their automation test.
You can be a part of this company and earn a 20% commission on every successful referral. There is a referral code provided to the affiliates in which they use to coax people to use Testsigma. There is a free version as well; the users can sign up for that. Affiliates can write an article, can launch a podcast, tutorials or record a video, advertise on their website or social pages regarding Testsigma.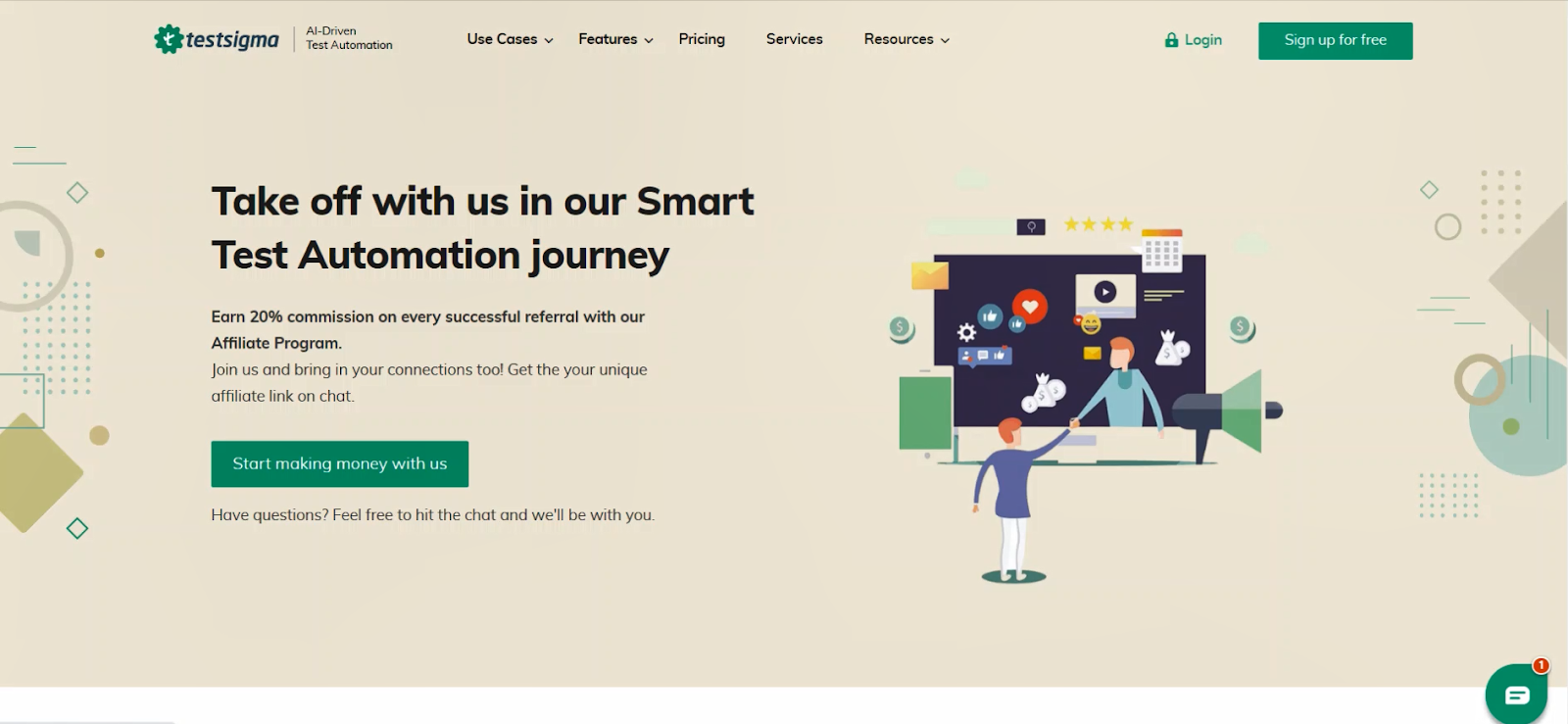 Features of the Affiliate Program:
You can earn a recurring commission of 20% for every referral.
Testsigma will handle all the loads by themselves offering your referrals, demo sessions, test sessions, etc.
Easy and convenient payment methods.
Udemy Affiliate Program
Udemy is a platform where you can learn and teach the latest technologies to enthusiastic students. They have videos on python, java, C++, web development, javascript, data science, excel, software testing, mobile development, react, angular, and the list goes on. Students can select a course in their interest. Udemy provides free as well as paid courses and certificates of completion for those courses. Udemy helps companies, not just students, by teaching their employees new and trending skills.
There are thousands of lecture videos on this platform. Affiliates need to choose a product that never goes out of style and that is high on demand by the customers. Then simply promote that product. On every purchase from your referral, you'll get a good commission (although they haven't disclosed the commission rate anywhere, but ensures you get the best one).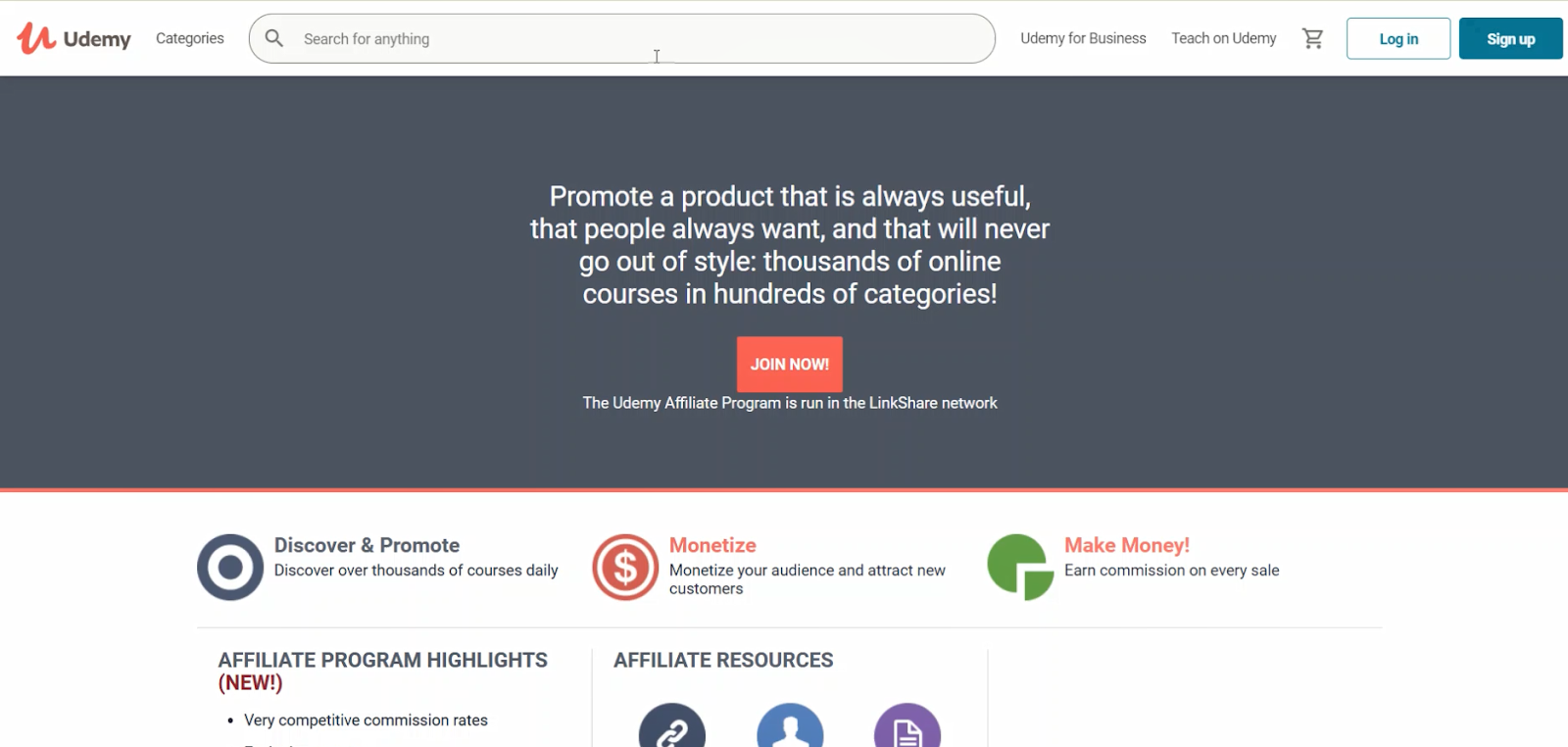 Features of the Affiliate Program:
Udemy has dozens of text links that have deep linking capabilities.
They have experienced and dedicated expert affiliate managers to guide you.
Udemy provides promotional assets and tools to help you manage all sales.
Conclusion
Affiliate programs are the best way to promote your product and provide more traffic to your websites. If your product is helpful and worthy, people tend to incline towards it. They just require an awareness through affiliate means. Also, an affiliate program is the best marketing strategy to foster your product. For developers and testers, these programs could be considered a fun and relaxing activity and also a little deviation from those codes and bugs eating out a major part of the day.
I personally am more inclined towards LambdaTest here. Among all these programs, LambdaTest is the only tool that facilitates testing strategies and efficient methodologies instead of just promoting the business. Through LambdaTest, you not only make other people aware, but the target audience can be pure testers and developers. So they not only improve their testing methods, especially web testing, but they help you earn some extra bucks.
Affiliate programs are helpful and increase the awareness of various products and methods for testers and developers. We hope this article was helpful to you and intrigues you enough to explore some affiliate programs for yourself.
Topics:
affiliate marketing made simple,
affiliate marketing tutorial,
saas applications,
affiliate advertising programs,
affiliate business,
partner network,
partner resources
Opinions expressed by DZone contributors are their own.
Performance Partner Resources