Scrum is a simple management framework for incremental product development using one or more cross-functional, self-organizing teams of between three and nine people each.
Scrum teams use fixed length iterations, called Sprints, typically two weeks or 30 days long. They attempt to build a potentially shippable (properly tested and integrated) product increment every iteration. They agree and observe a Definition of Done which asserts the quality of their completed work. A typical Definition of Done will assert that all work must be reviewed, tested thoroughly, and integrated.
An Alternative to Waterfall
Scrum's incremental, iterative approach trades the traditional phases of "waterfall" development for the ability to develop a subset of high-business value features first, incorporating user feedback sooner.

Figure 1: Traditional "waterfall" development assumes perfect understanding of requirements at outset.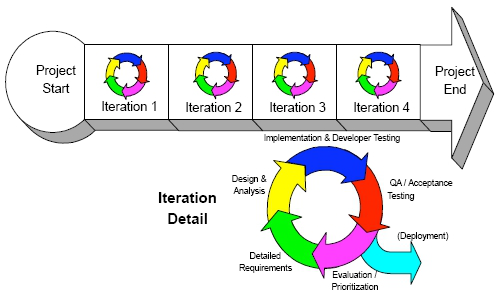 Figure 2: Scrum blends all development activities into every iteration, adapting to discovered realities at fixed intervals.
Scrum has been used for a variety of products, but has initially been most popular for software products using object-oriented technologies. It is particularly suited to high risk endeavors where traditional efficiency concerns are secondary to the ability to deliver the right product, or any product, by the required date.
A Disruptive Framework to Transform Organizations
The reality checks forced by the short feedback loops are intended to expose dysfunction at the individual, team, and organizational level. Rather than modify Scrum to mask these dysfunctions, organizations are encouraged to challenge these constraints and transform themselves.
Scrum is a framework, not a defined process or methodology. Scrum provides a simple structure of roles, meetings, rules, and artifacts1. Scrum teams are responsible for creating and adapting their processes within this framework. Scrum's management practices are similar to those of eXtreme Programming (XP), but, unlike XP, Scrum does not prescribe specific engineering practices.