Section 1
Introduction
The days of yearly product, feature, or code releases are long gone. And while monthly releases were common in previous years, today, bi-weekly releases are gaining traction — though there are a few over-achievers. By moving to AWS, Amazon bursts out releasing code every 11.7 seconds. Etsy steadily follows a 50+ deployments per day cadence. And Netflix releases thousands of times daily. Needless to say, quality at speed at these companies is producing real results in terms of stellar revenue growth, dramatic cost savings, and enviable customer loyalty. This is only possible because teams have fundamentally changed the way they think about software quality to enable them to test at the speed of agile.
Testing at the speed of agile drives quality at speed. But getting there can be a challenge for many organizations. These challenges start all the way to the left of the Software Development Lifecycle (SDLC) with 64% of total defect cost traced to poorly defined or incomplete requirements. We've seen this happen time and again. And how about these two examples to remind us about how things can go wrong, when there's a disconnect between requirements and the final output.
This is particularly important because of the trickling effect of this issue. If you don't get your requirements right, costly rework and defects are sure to happen, affecting the bottom-line and possibly the brand. On the flip side, get your requirements right, and you'll see that 64% defect rate drop significantly, resulting in better quality outcomes — at speed.
The Current State of Testing: Why Legacy Testing Hasn't Changed in 30 Years
It's hard to believe that after 30 years, 70% of testing is still performed manually. A major bottleneck in the SDLC, legacy testing remains a barrier to speed and quality — unable to keep up with today's agile, continuous testing model. Here's what I mean.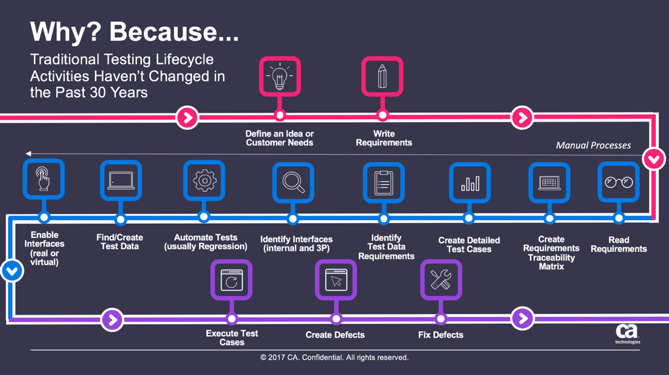 Ideas and customer needs are discussed with visual aids such as diagrams on a whiteboard or piece of paper. These ideas are converted into written, text-based requirements. What follows is a series of manual steps — arguably, the most tedious, labor intensive part of the testing lifecycle. This includes:
Reading requirements; understanding user stories and acceptance criteria.
Creating a requirements traceability matrix, providing visibility on the desired coverage against those requirements.
Designing detailed test cases; outlining expected results.
Identifying test data requirements satisfying the test cases you just created.
Identifying internal and third-party interfaces needed to run those tests against the test data.
Automating tests. This is challenging because test automation technology hasn't evolved at the pace of application development technology. We still rely on test automation approaches like OCR, object-based recognition, or image-based recognition, and they tend to be brittle, with those scripts breaking easily when application changes or new builds occur — leaving you to manually resynch objects. And depending on how you've implemented your framework, you have to rework the actual scripts and so on. The answer to that? Automate only the tests that are not expected to break: the regression testing suite.
Provisioning test data and enabling real or virtual interfaces.
Only after all these laborious (and typically manual) steps are performed can you finally start test case execution.
Testing practitioners know that these mundane tasks take a lot of time, effort, and grief before getting to the tail end of the process, which includes executing those test cases and creating and fixing defects. And that's where the real value is for the agile team: that quick, immediate feedback on the code that was just checked in or deployed to the environment, and not just feedback on application regression.
And so, many organizations today that want to go agile and speed up their application delivery and release processes find that traditional testing no longer fits their need for speed and quality.