JOHARI Window: How Do I Leverage for My Agile Transformation?
Coaching Tools For The Coach.
Join the DZone community and get the full member experience.
Join For Free
Introduction
Johari window as a concept comes from the study done by psychologists Joseph Luft (1916–2014) and Harrington Ingham (1916–1995) in 1955 and is used primarily in self-help groups and corporate settings as a heuristic exercise.
What is JOHARI Window?
Johari window is a 4 tiled grid that has 'Self' on X-Axis and 'OTHER PEOPLE' on the Y-Axis. The matrix works on the premise How much do we know about ourselves and how much do OTHER PEOPLE know about us?
Quadrant 1: Open (known to us, known to others).
Quadrant 2: Hidden (known to us, unknown to others).
Quadrant 3: Blind (unknown to us, known to others).
Quadrant 4: Unknown (unknown to us, unknown to others).
The below table summarizes the example when the JOHARI window is used for Personal Coaching:
JOHARI Window - Contextualize To Agile Transformation
As Agile Coaches, we can leverage this tool in our transformation by capturing information about the engagement in the grid below. We need to apply few identification techniques as coaches to find out the hidden and blind spots in the engagement.
Below 2 tables are an indicative information which gets populated while using this tool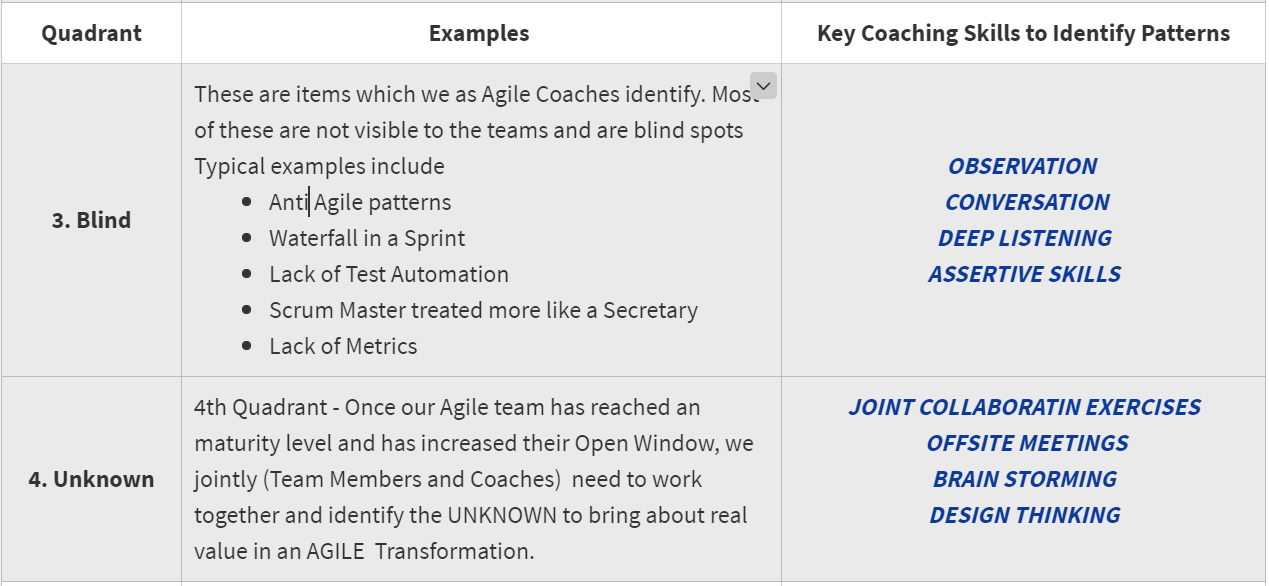 End Note
Johari window is a very powerful tool that can be leveraged by Agile coaches in first identifying the Blind Spots and then leveraging Coaching tools to expand the Open area into the Hidden area and identify patterns. Once teams have expanded their Open area into Blind Spot and Hidden ones, Agile Coach and team should then jointly work together to identify the UNKNOWN ZONE. The real sweet spot in the Transformation is if we can explore the UNKNOWN ZONE and expand the Transformation WINDOW.
Topics:
agile adoption,
agile transformation,
agile coaching,
agile leaders,
agile leadership,
psychological safety,
leadership coach
Opinions expressed by DZone contributors are their own.