Snap CI Is Shutting Down
DZone's Guide to
Snap CI Is Shutting Down
On February 6, 2017, Snap CI announced that its last day will be August 1. As you flock to find a replacement, it's helpful to see a comparison of different platforms.
Join the DZone community and get the full member experience.
Join For Free
The Nexus Suite is uniquely architected for a DevOps native world and creates value early in the development pipeline, provides precise contextual controls at every phase, and accelerates DevOps innovation with automation you can trust. Read how in this ebook.
This is really sad news for the DevOps industry. Snap CI is going away, and we can see the whole DevOps industry trying to rethink their processes. My Twitter feed was all filled with #SnapCI posts.
What Went Wrong?
Snap CI is backed up by ThoughtWorks, who are the leaders in technology consultation. According to them, they failed to create an impact on their target market through Snap CI. They'll be continuing their focus with consultation and another Continuous Delivery product, Go CD. Now, Snap CI users have to make a big decision of switching to other platforms and tools. How's that going to be?
Today, I would like to provide a brief comparison of Snap CI and various CI/CD organizations:
Snap CI in comparison with Codeship: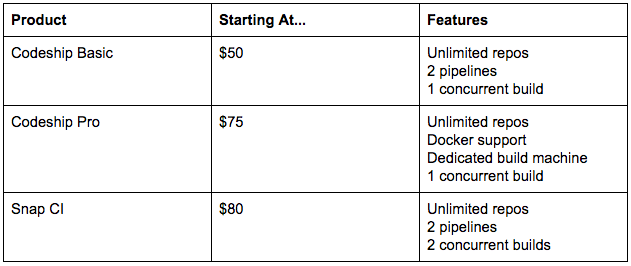 Snap CI in comparison with Shippable: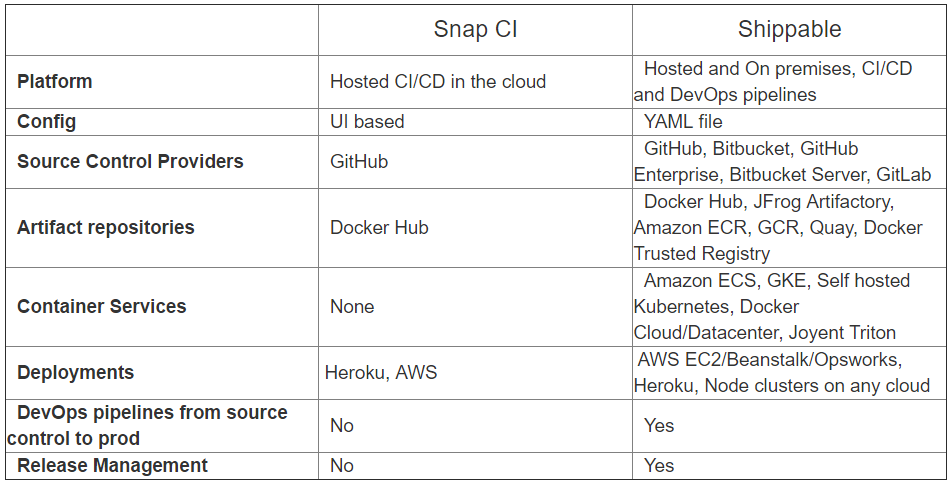 Snap CI in comparison with Circle CI:
Codeship, Circle CI, and Shippable have their own benefits and advantages. Ultimately, it is the customer who is going to gauge and rate you.
The DevOps Zone is brought to you in partnership with Sonatype Nexus. See how the Nexus platform infuses precise open source component intelligence into the DevOps pipeline early, everywhere, and at scale. Read how in this ebook.
Topics:
snap ci ,continuous integration ,continuous delivery ,devops
Opinions expressed by DZone contributors are their own.