Section 1
What Makes an IoT Platform? Messaging as a "Lever"
The core of an IoT platform is the messaging infrastructure, which has to provide all the features described in the previous section. Around such an infrastructure, there are other "core" services focused on IoT use cases, such as:
A device registration component for handling devices information and the related status.
An authentication/authorization component for providing access control.
A device provisioning component for delivering software updates on devices.
All of these "core IoT" services will use the underlying messaging infrastructure to communicate with each other and with devices in the field.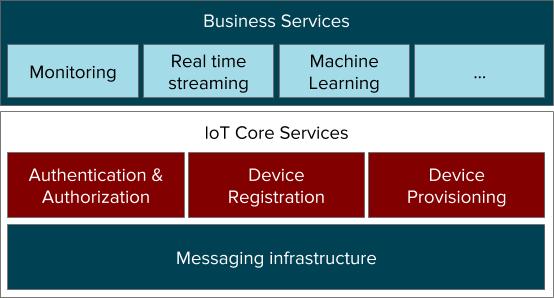 Figure 1: What makes an IoT platform?
Of course, all the ingested data needs to be processed in order to bring value to the entire IoT solution. For this reason, other "business" services can leverage the messaging infrastructure in order to receive such data for monitoring, real-time analytics, machine learning, and so on.