Section 1
Creating a New Akka Application
To create a new Akka application we will use the open source Typesafe Activator tool.
Download the Typesafe Activator: http://typesafe.com/platform/getstarted
Launch Typesafe Activator's UI.
Create a new app using the "Hello Akka!" template, which is a good place to begin learning as well as a good boilerplate project to start from.
Select Run to verify the app is working.
Optionally, open the new app in an IDE by selecting Code then Open, and then either Open in Eclipse or Open in IntelliJ depending on which IDE you are using: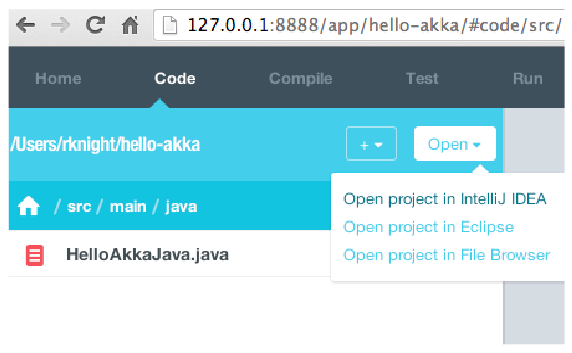 As you make changes to your code, it will be recompiled and you will see any compile errors in the Compile tab of the activator:

This Refcard introduces Akka by modeling a simple robot named AkkaBot. The robot walks on four legs like a dog and has basic head controls. This tutorial can be used from either Java or Scala, and sample code has been provided in both Java and Scala. The AkkaBot will be modeled as an actor, with each leg and the head modeled as child actors. We will make the AkkaBot fault tolerant so that it reacts to failure and can deal with obstacles that come its way!