Understanding Open Telemetry and Observability w/ Splunk's Spiros Xanthos
Splunk's VP of Observability breaks down what the future of data and OpenTelemetry look like on the Dev Interrupted Podcast.
Join the DZone community and get the full member experience.
Join For Free
Observability is crucial to understanding and adapting your product and your data - and open source telemetry is increasingly important. To go behind the data and understand where telemetry is going, Spiros Xanthos joined me on the Dev Interrupted podcast to talk about how data analysis and tracking are changing, and what is next for Splunk. Spiros is the Founder of Omnition and the current VP of Product Management, Observability, and IT at Splunk.
Listen to the Episode
Episode Highlights Include:
Splunk's Omnition Acquisition
OpenTelemetry - what's behind it, how to participate, what's next
Splunk's problem solving, strategy, and future
You can also read more via Conor Bronsdon's in-depth article breaking down this episode on Twitter.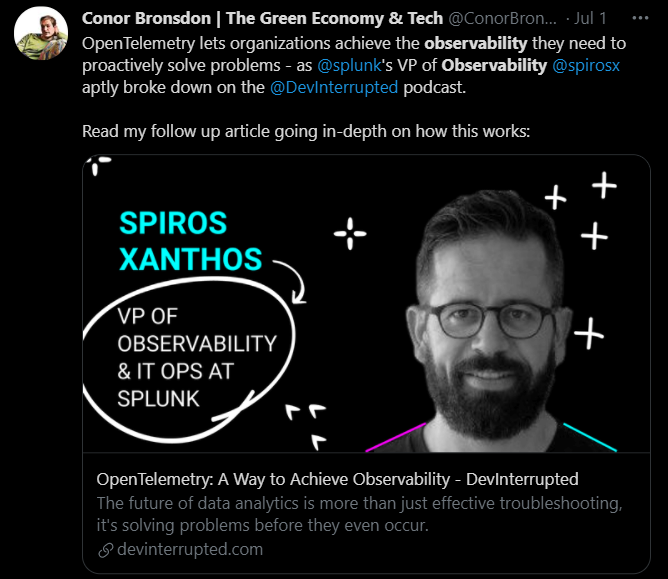 Join the Dev Interrupted Server
With over 1200 members, the Dev Interrupted Discord Community is the best place for Engineering Leaders to engage in daily conversation. No sales people allowed. Join the community >>
Topics:
observability,
observability data,
opentelemetry,
development,
microservices and containers,
microservices,
microservices adoption,
telemetry,
data acquisition,
data + integration
Opinions expressed by DZone contributors are their own.
Big Data Partner Resources